Ambassador Roberto Romulo, Carlos P Romulo Foundation (CPRF) Chair and National Resilience Council (NRC) Convenor, delivered the welcoming remarks at the Megacities at Risk Conference. He stressed that the occurrence of a 6.1 earthquake which rocked Metro Manila and Pampanga provided the urgent food for thought on how the Filipinos should plan and prepare for the Big One.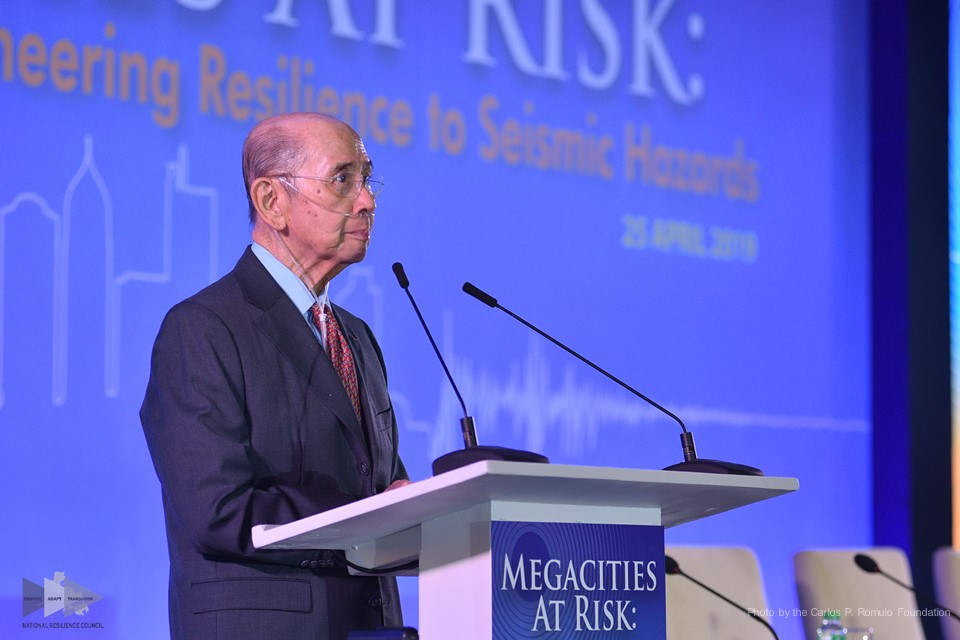 NRC Co-Chair and SM Prime Executive Committee Chairman, Mr. Hans Sy, also saw the importance of the conference in starting a critical conversation among decision makers and stakeholders involved in disaster risk reduction (DRR) and resilience building. "It was driven by the main concern for the survival of the estimated 25 million people in the socio-economic and political centers in Greater or Mega Manila, and the importance of sharing knowledge and learning from the expertise and experience of our neighbors."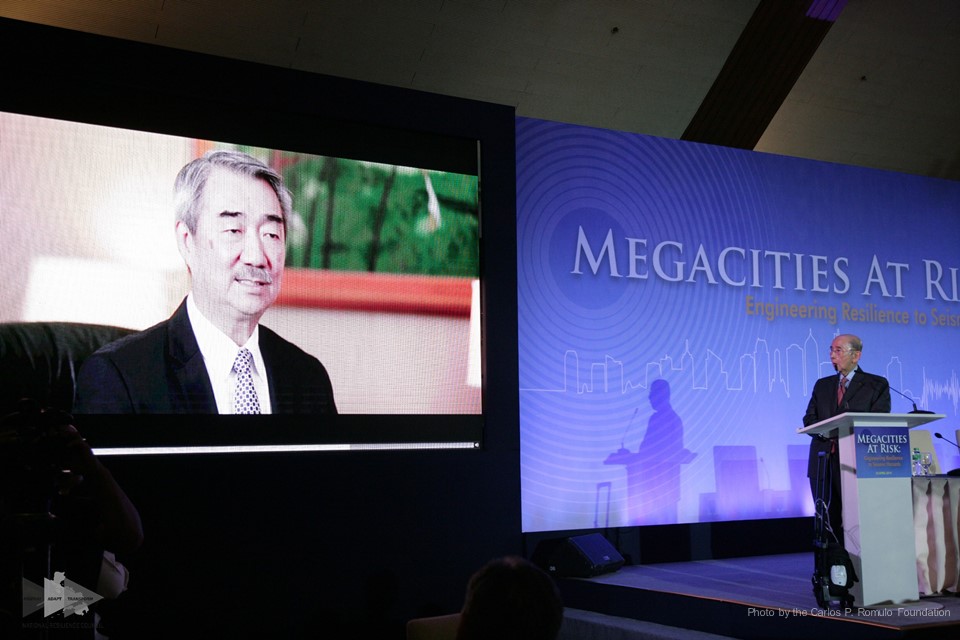 CPRF, in cooperation with NRC, National Research Institute for Earth Science and Disaster Resilience of Japan, the National Science and Technology Center for Disaster Reduction (NCDR) and the APEC Emergency Preparedness Capacity Building Center (APEC-EPCC) of Chinese Taipei organized Megacities at Risk last 25 April 2019 at the Manila Polo Club in Makati City.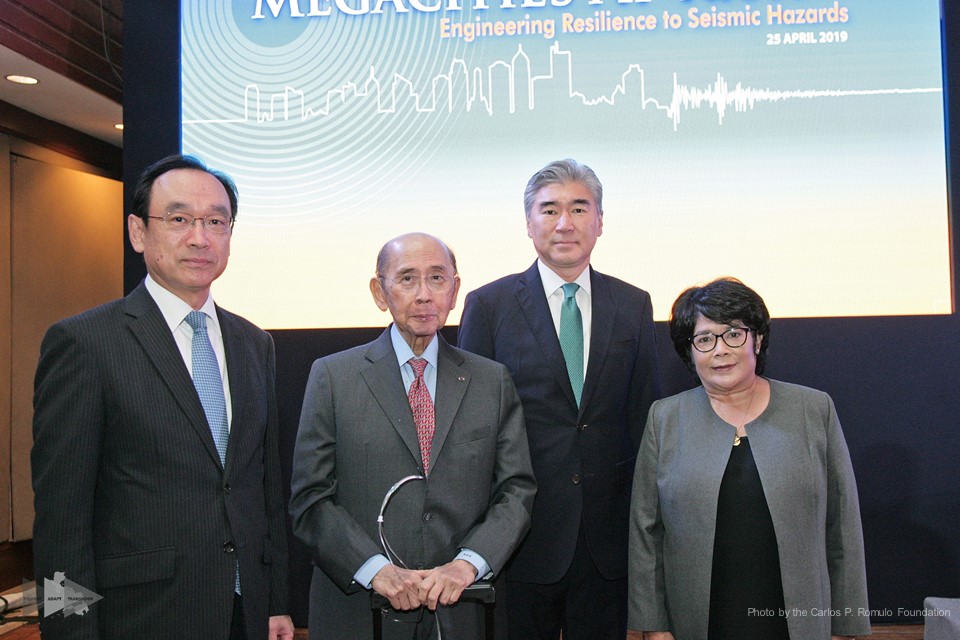 With the theme "Engineering Resilience to Seismic Hazards", the conference focused on the seismic risk in megacities and how resilience is a goal that needs a whole-of-society effort. It highlighted the private sector's role in achieving resilience through risk-sensitive investments and allowed participants to assess the country's progress in addressing the priorities of the Sendai Framework for Disaster Risk Reduction, as well as other agreements to coincide with Philippines' commitments for the Sustainable Development Goals. It aimed to contribute to the work done by the UN Office for Disaster Risk Reduction (UNDRR) through the Global Science and Technology Advisory Group, the Private Sector Alliance for Resilient Societies (ARISE) and other multilateral and bilateral partnerships.
NRC Vice Chair for Private Sector Edgar Chua at the Opening Session of the Conference

Metropolitan Manila Development Authority Chairman BGen Danilo Lim (Ret) at the Opening Session of the Conference

Office of Civil Defense Administrator Undersecretary Ricardo Jalad at the Opening Session of the Conference

NRC President Antonia Yulo Loyzaga presented the conference overview
The conference featured three plenary sessions—Identifying, Understanding and Reducing Risk—with corresponding workshops. Each plenary session consisted of leading local and international disaster experts and policy makers—specifically hailing from the Philippines, Japan, United States, Chinese Taipei, Indonesia and Singapore—who shared their experiences and DRR technologies. These sessions explored the context, complexity and dynamics of hazards and risk while also tackling the capacities needed to identify exposure and vulnerability. The sessions also provided an avenue to consider organizational behaviors, cultures and local knowledge and attitudes of stakeholders and leaders towards risk. After every session, the participants were welcome to ask experts for further insights during the question and answer (Q&A) portion.
Plenary Session 1: Identifying Risk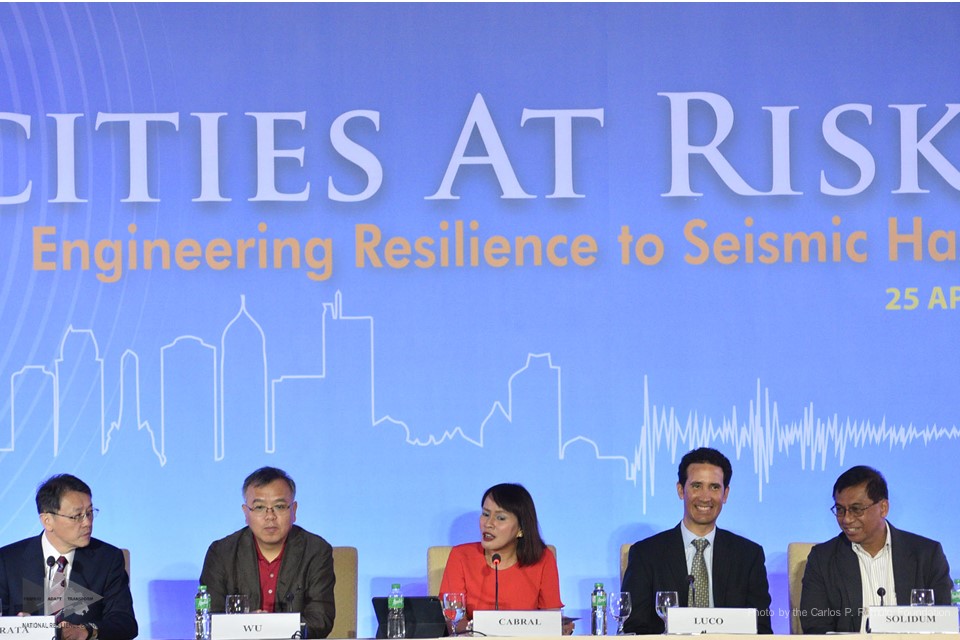 For Identifying Risk, experts explained how to create seismic risk profiles at city level and introduced Early Warning Systems (EWS) as effective and efficient measures to communicate risk through various channels, as applied in countries like Japan, Chinese Taipei and select areas in the United States. Speakers for this session tackled the following topics:
Tokyo University Earthquake Research Institute Professor Naoshi Hirata on Japanese hazard seismic and risk;
National Taiwan University Department of Geosciences Chairman Yih-Min Wu on the development of the earthquake early warning and real-time shake map systems using low-cost sensors;
US Geological Survey Research Structural Engineer Dr. Nicolas Luco on seismic hazard identification and risk reduction in the United States; and
Department of Science and Technology (DOST) Undersecretary for Disaster Risk Reduction and Climate Change and Philippine Institute of Volcanology and Seismology (Phivolcs) Officer-in-Charge Dr. Renato Solidum on earthquake scenarios for the Greater Metro Manila Area
Department of Public Works and Highways (DPWH) Undersecretary Maria Catalina Cabral moderated the discussion for Session 1.
Plenary Session 2: Understanding Risk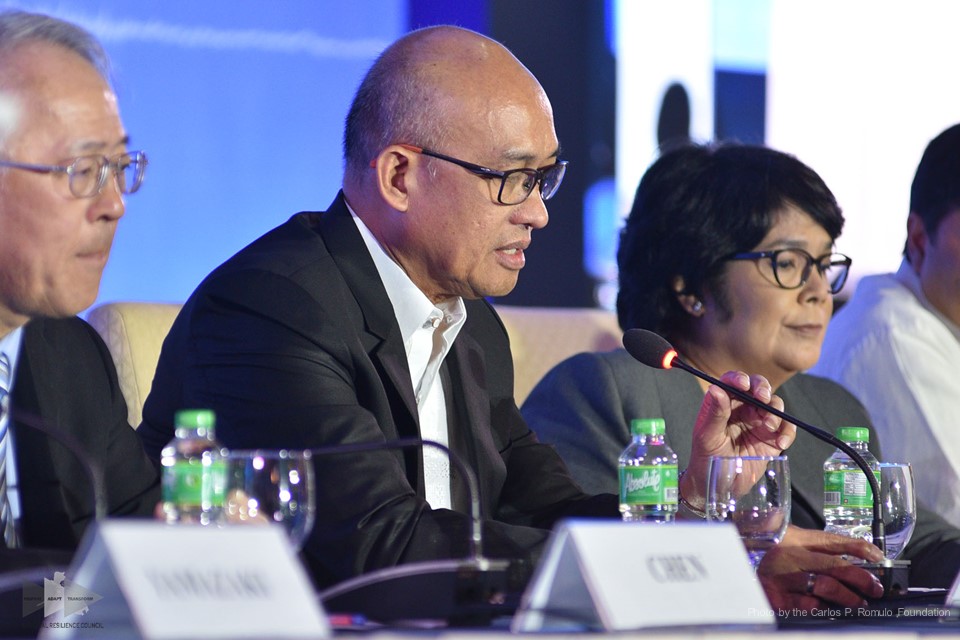 Session 2 emphasized the importance of conducting earthquake scenario analysis to understand risk levels of lifeline systems (such as communications, water, power), therefore helping in the detection of highly vulnerable infrastructure and communities and determining coping capacities in the event of aftermaths. Speakers for Understanding Risk tackled the following topics:
Chiba University School of Engineering Professor Fumio Yamazaki on the Building Damage Analysis of the 2016 Kumamoto Earthquake and its implication to seismic vulnerability of Tokyo Metropolis;
NCDR Director Dr. Hongey Chen on the intelligence-based information system used for building the common operational picture for emergency preparedness;
Urban/Regional Planner Dr. Arturo Corpuz on location and density trends as inputs to understanding seismic risk Metro Manila;
Indonesian Institute of Sciences (LIPI) International Center for Interdisciplinary and Advanced Research (ICIAR) Executive Secretary Irina Rafliana on real event lessons from the downstream of the Indonesian Tsunami Early Warning Systems;
Asian Development Bank (ADB) Principal Disaster Risk Management Specialist Dr. Charlotte Benson on lessons in enhanced understanding of disaster risk; and
Department of Interior and Local Government (DILG) Undersecretary for Peace and Order Mr. Bernardo Florece, Jr. on understanding risk in the context of the Greater Metro Manila Area
NRC President Antonia Yulo Loyzaga moderated the discussion between speakers and participants for Understanding Risk.
Plenary Session 3: Reducing Risk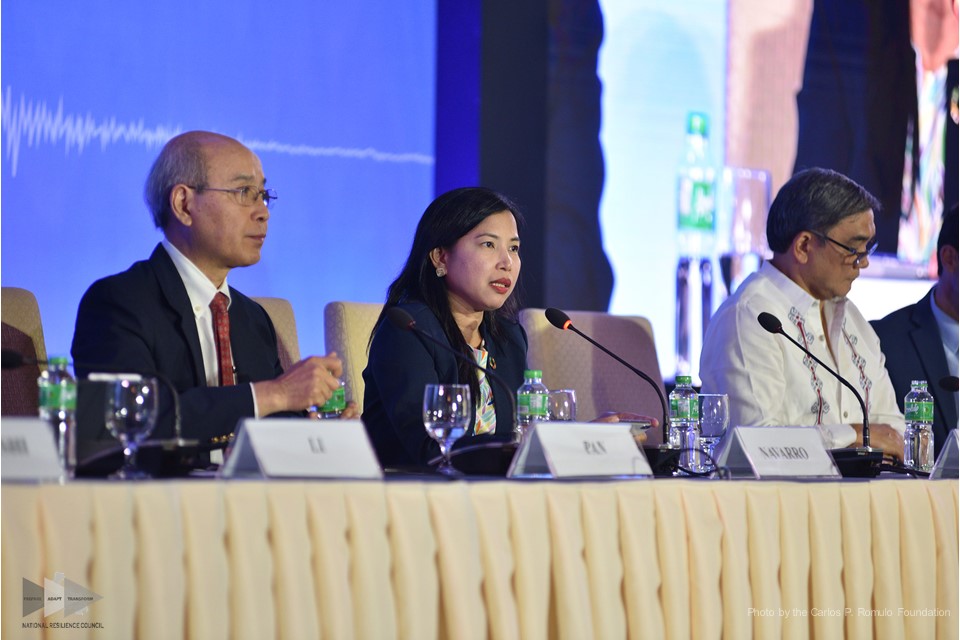 Experts in the third session explored the different policies and practices on national drills, insurance, pre-disaster recovery planning and business continuity planning that would guide future multi-sectoral collaborations. Speakers addressed risk reduction by presenting the following:
National Research Institute for Earth Science and Disaster Resilience President Dr. Haruo Hayashi on the geographic approach to promoting science and technology for an integrated earthquake disaster risk reduction;
NCDR Secretary General Dr. Wei-Sen Li on performance-based continuity plans used for leading strategic measures on developing disaster risk management;
Nanyang Technological University Institute of Catastrophe Risk Management Executive Director Professor Pan Tso-Chien on natural catastrophe risk of Asia;
Metro Manila Development Authority (MMDA) Chief-of-Staff Mr. Michael Salalima (who spoke in behalf of MMDA Chairman BGen Danilo Lim AFP (Ret)) on the Metro Manila Earthquake Contingency Plan;
Maynilad Water Services, Inc. President and CEO Mr. Ramoncito Fernandez on seismic hazard management in the water sector; and
US Agency for International Development/Office of U.S. Foreign Disaster Assistance (USAID/OFDA) Regional Adviser Mr. Joe Curry on harnessing the power of the youth in disaster risk mapping in Metro Manila.
National Economic & Development Authority Undersecretary and Session 3 Moderator, Ms. Adoracion Navarro, summarized the speakers' presentations during the Q&A for Reducing Risk.
Putting It All Together
Workshop on Identifying Risk with facilitators Usec. Renato Solidum and Dr. Naoshi Hirata.

Workshop on Understanding Risk with facilitators Dr. Wei-Sen Li, Dr. Charlotte Benson and Mr. Ramon Santiago.

Workshop on Reducing Risk with facilitators Mr. Michael Salalima, VAdm Alexander Pama and Dr. Haruo Hayashi.

Workshop on Multi-Stakeholder Framework on Joint Collaboration with facilitators Ms. Antonia Yulo Loyzaga, MGen Restituto Padilla AFP (Ret) and Mr. Joe Curry.
In the last session, participants broke out into four different workshops: Identifying Risk, Understanding Risk, Reducing Risk and Multi-Stakeholder Framework on Joint Collaboration.   They reflected on the respective results of the plenary discussions and worked together to identify gaps, priorities for action, desired outcomes, possible partnerships and timeline. The simultaneous workshops also allowed participants to explore mutual assistance mechanisms for joint collaboration on research and public-private partnerships. Each workshop had experts who served as facilitators, a resource person from Phivolcs and documenters from NRC and the Ateneo de Manila University Master in Disaster Risk and Resilience (ADMU-MDRR) program.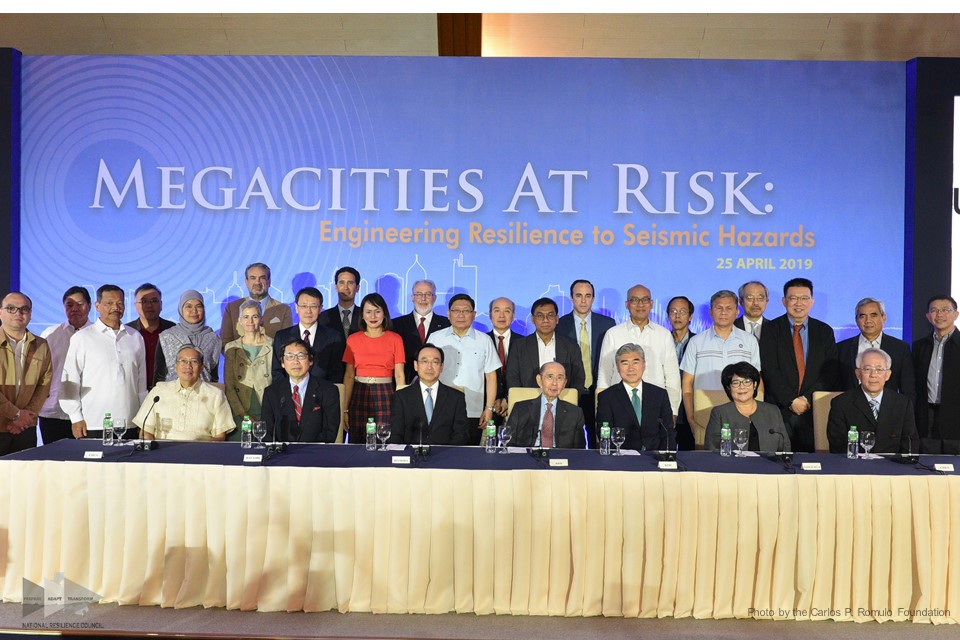 Facilitators presented their respective outputs which were later synthesized by Zuellig Family Foundation Executive Vice President Austere Panadero. NRC President Antonia Yulo Loyzaga, meanwhile, summarized the sessions and discussed ways of moving forward.
In his closing remarks, Amb. Roberto Romulo reminded the participants that addressing DRR and resilience is not a one-off affair. He said that the true challenge lies in developing an understanding that everyone must work together to make a change.
Photos courtesy of the Carlos P. Romulo Foundation.