Date: May 14 2020, 6PM PHT | Source: The Manila Observatory
Summary
WHAT
TY Vongfong (Ambo) intensified to Cat 3 (max 1-min sustained winds ~185 kph) and is located over Samar Island (JTWC) as of 14 May 2PM.
TY Vongfong made landfall over Eastern Samar on 14 May 12:15PM (PAGASA).
WHEN AND WHERE
Multi tracks from different agencies show consensus in the west-northwestward track of TY Vongfong.
Forecasts show that it will cross the Bicol Region on 15 May 2PM, north Luzon on 16 May 2PM, and exit the country after 17 May 2PM.
Strong winds (~150 kph; 15 May 2PM) will be experienced in Bicol Region as Vongfong passes
through
CURRENT RAINFALL
As of 14 May 4PM, moderate (5 mm) to heavy rainfall (20 mm) over Samar, Bicol region, and Northeast Mindanao.
MODEL FORECAST
From 8AM, May 14, high rainfall (>250mm) is expected with the next 24 hours over Northern Samar and Bicol. For the next 48 to 72 hours, the area of high rainfall
Current status of Typhoon Vongfong (Ambo)
As of 2 PM 14 May, TY Vongfong intensified to Cat 3 (max 1-min sustained winds ~185 kph) and forecasted to weaken to Cat 2 (max 1-min sustained winds ~167 kph) as it passes along Bulan/Irosin Sorsogon.
Bicol and Samar will continue to experience strong winds as Vongfong passes southern Luzon until tomorrow May 15 morning. Vongfong will traverse entire Luzon on May 16 and exit the country on May 17 evening.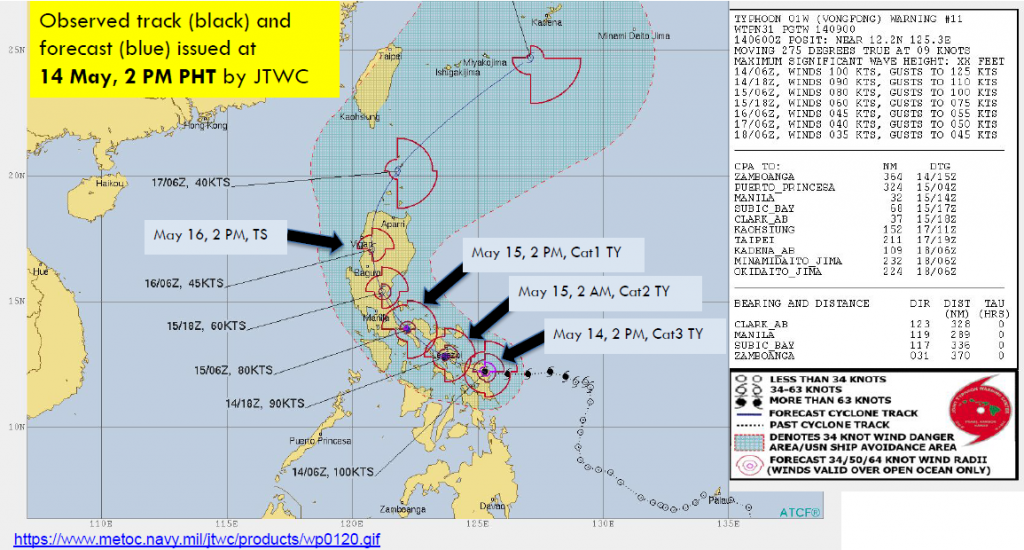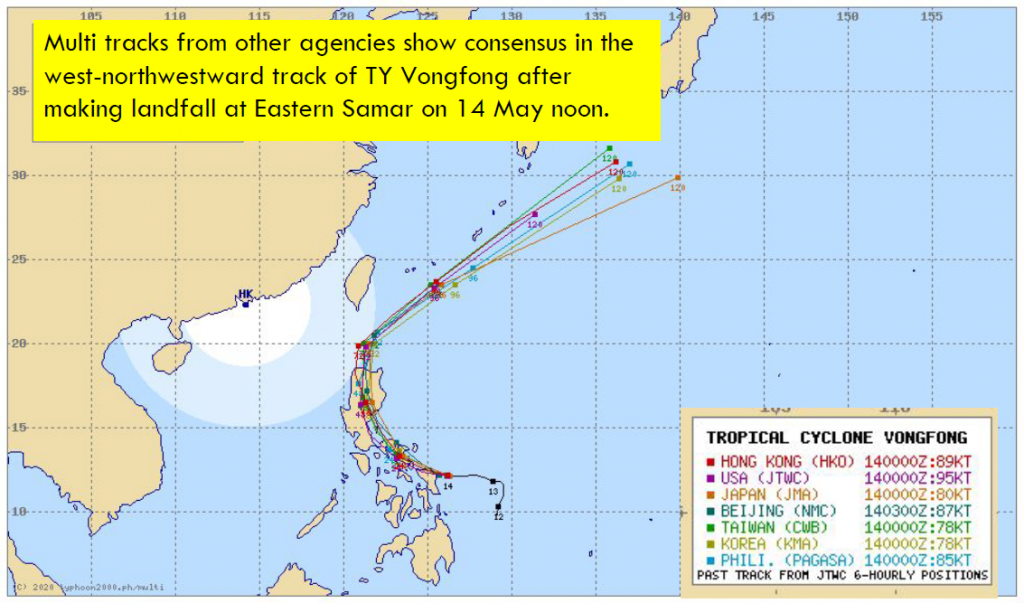 Potential rainfall associated with Typhoon Vongfong (Ambo)