Last July 4, National Resilience Council (NRC) Executive Director Marilou Erni showcased NRC's work in a session on Disaster Emergency Response and Disaster Risk Reduction and Resilience during the 18th League of Corporate Foundations' (LCF) Corporate Social Responsibility (CSR) Expo at the Philippine International Convention Center in Pasay City. With the theme "Toward Collective Impact: Collaborations that Work!", the two-day LCF CSR Expo gathered different sectors to discuss opportunities for impactful collaborations, learn from each other about best CSR practices and to promote a common framework for addressing pressing national issues and for achieving sustainable development.
Ms. Erni began her presentation with the latest World Risk Index. The Index reported that the Philippines remained third most at risk in the world—after Vanuatu and Tonga—and that the country was rated very high in terms of vulnerability, and high on exposure, susceptibility and lack of coping capacities. While showing a 2019 Global Assessment Report (GAR) infographic, she added that there is a need for a shift from disaster response to risk prevention through risk-informed systems-based approaches and decision making.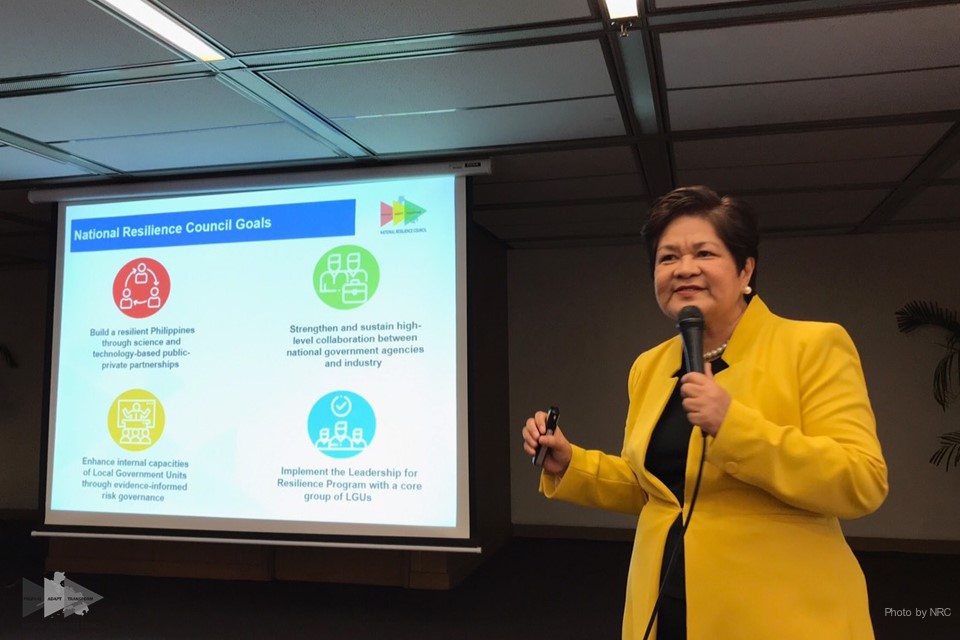 NRC has always emphasized that the complex and dynamic nature of risk, and the Philippines' unique patterns of development, required trans-disciplinary approaches that needed the active participation of different sectors and communities themselves. Through a whole-of-society effort, this would bridge the critical gaps between science, policy and practice. Thus, ARISE Philippines and the NRC are working together to advance science and technology-based public-private partnerships in the attainment of the shared goals of Sendai Framework for Disaster Risk Reduction, Sustainable Development Goals, the Paris Climate Agreement and the New Urban Agenda.
Ms. Erni went on to discuss NRC's Resilient LGU Program, a three-year pathway that uniquely integrates leadership and governance and science and technology, and builds the internal capacities of local government units for them to develop and manage their own resilience initiatives. With the help of other sectors and by anchoring on international and national frameworks, NRC also developed its Resilient Local Government Systems Scorecard, a guide with over 90 indicators organized according to five cross-cutting pillars: Leadership and Governance, Human Development, Local Economy, Infrastructure and Environment.
Ms. Erni also talked about the ADOPT-A-CITY Program, NRC's latest innovation which aimed to strengthen public-private partnerships and encourage direct private sector investment in local disaster risk reduction and long-term resilience efforts. The city-specific partnership model was launched last June 17 through a signing of a Memorandum of Understanding between SM Prime and Cagayan de Oro City. Addressing the participants, she encouraged the members of LCF to join the call for resilience work, highlighting SM Prime Executive Committee Chair and NRC Co-Chair for Private Sector Mr. Hans Sy's message that "Disaster Risk Reduction makes good business sense."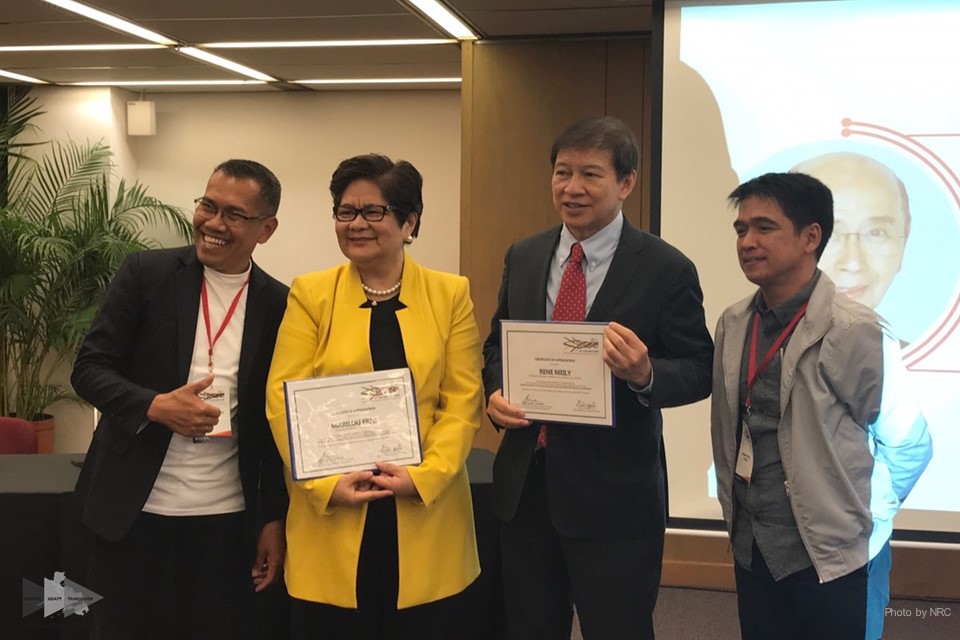 "We have to transform our frame of mind, our thinking, and our development model, to make us less exposed and vulnerable to climate change and disasters," shared Ms. Erni, quoting NRC Convenor Amb. Roberto Romulo. "While resilience is our goal, transformation in terms of evidence-informed leadership, knowledge, competencies and skills is critical to achieving it. This type of transformative leadership must be achieved through multi-stakeholder partnerships at both national and local levels."
Photos by NRC.