The Private Sector Alliance for Disaster Resilient Societies (ARISE) in the Philippines had its Annual General Meeting (AGM) last 29 April 2019 at the Mall of Asia Arena Annex (MAAX) Building in Pasay City.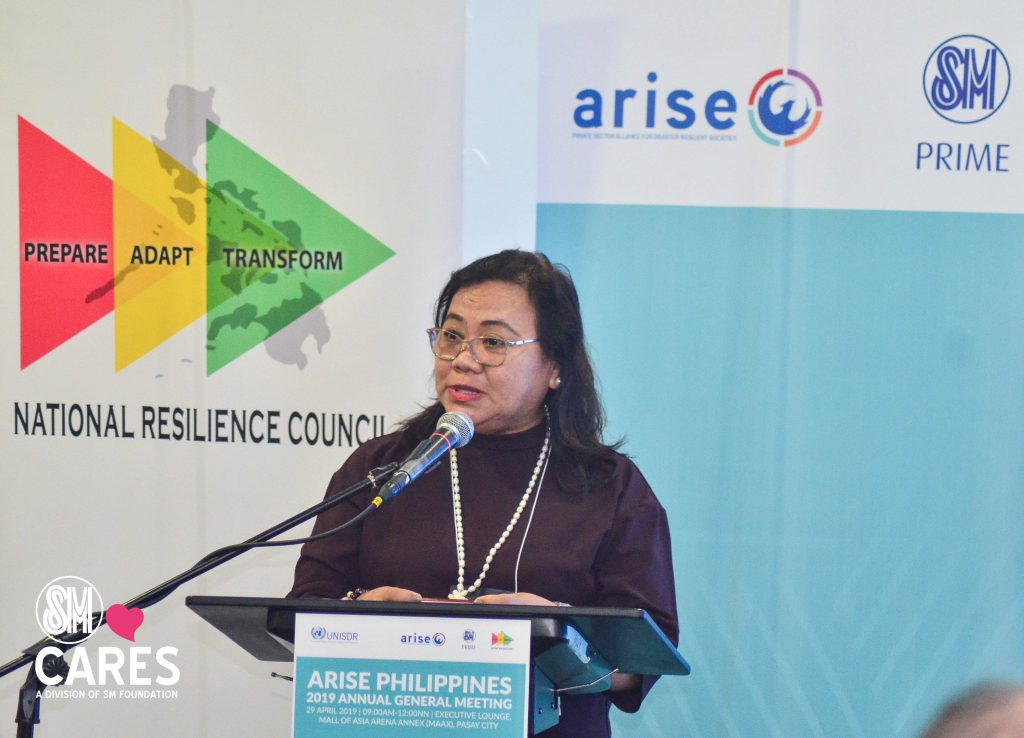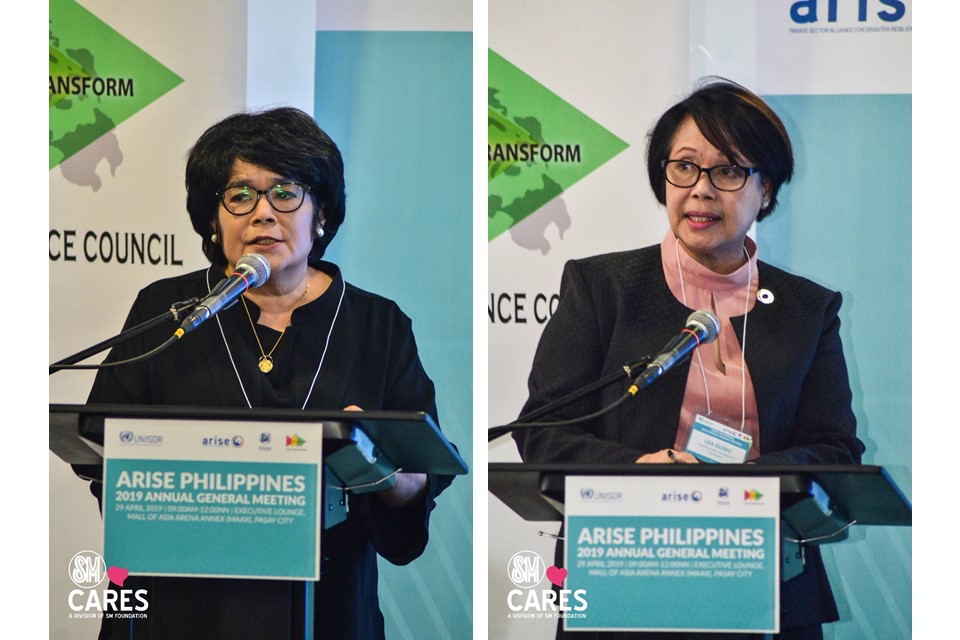 ARISE Philippines' Secretariat, SM Prime, and its Lead Implementing Partner, the National Resilience Council (NRC), co-organized the meeting to foster an understanding of the nature of the following ARISE work themes: Disaster & Risk Management Strategies; Education & Training; and Urban Risk Reduction & Resilience.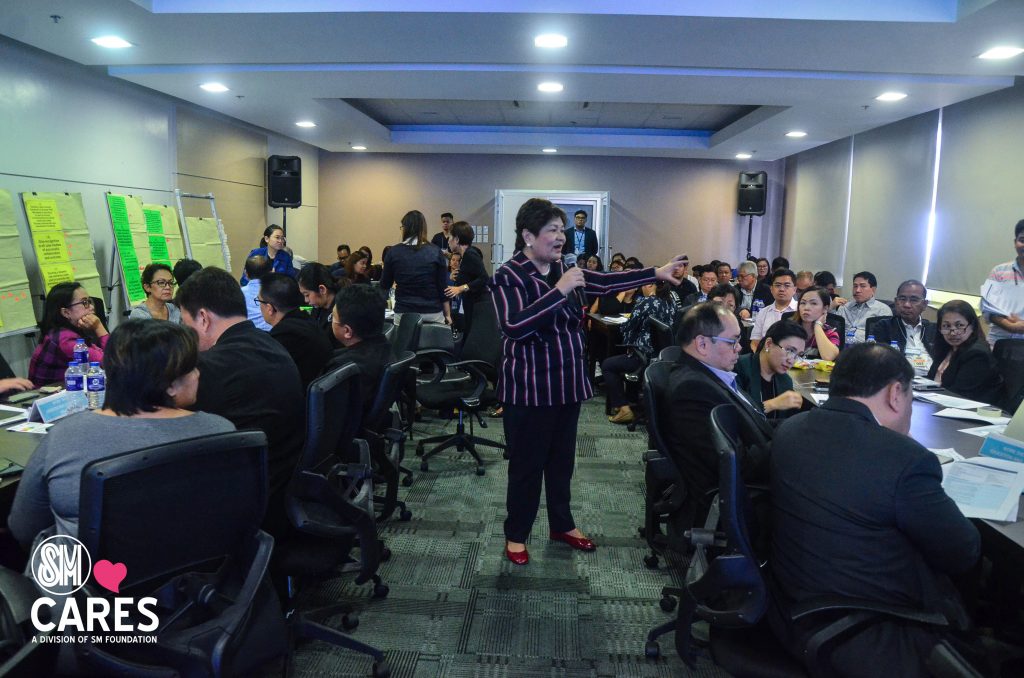 In an NRC-facilitated session, members discussed their accomplishments according to the Key Performance Indicators (KPI) under each work theme. Among the outputs shared were NRC's localized resilience scorecard for Disaster & Risk Management Strategies, Ateneo de Manila University's Master of Disaster Risk and Resilience degree program for Education & Training and SM's Resilience Center for Urban Risk Reduction & Resilience.
ARISE Philippines included the highlights from the meeting in a report for the 2019 Global Platform for Disaster Risk Reduction (GP2019), as well as used them as inputs for the 2019-2020 ARISE Philippines Roadmap.
Participants discussed outputs and accomplishments for the ARISE roadmap

Philippine Disaster Resilience Foundation President, Butch Meily, presented for Work Theme 1: Disaster Risk Management Strategies

Coastal Cities at Risk in the Philippines (CCARPH) Project Leader, Dr. Emma Porio, reported the outputs for Work Theme 4: Education and Training

Build Change Country Director for the Philippines, Kate Landry, for Work Theme 6: Urban Risk Reduction and Resilience
As a side event, Ms. Rosemarie Rafael of Airspeed—a logistics and end-to-end solutions provider offering expertise in customs brokerage, cargo handling, local distribution, e-commerce deliveries, and warehousing—also signed the Pledge of Partnership for Resilience to formalize its commitment to working with NRC.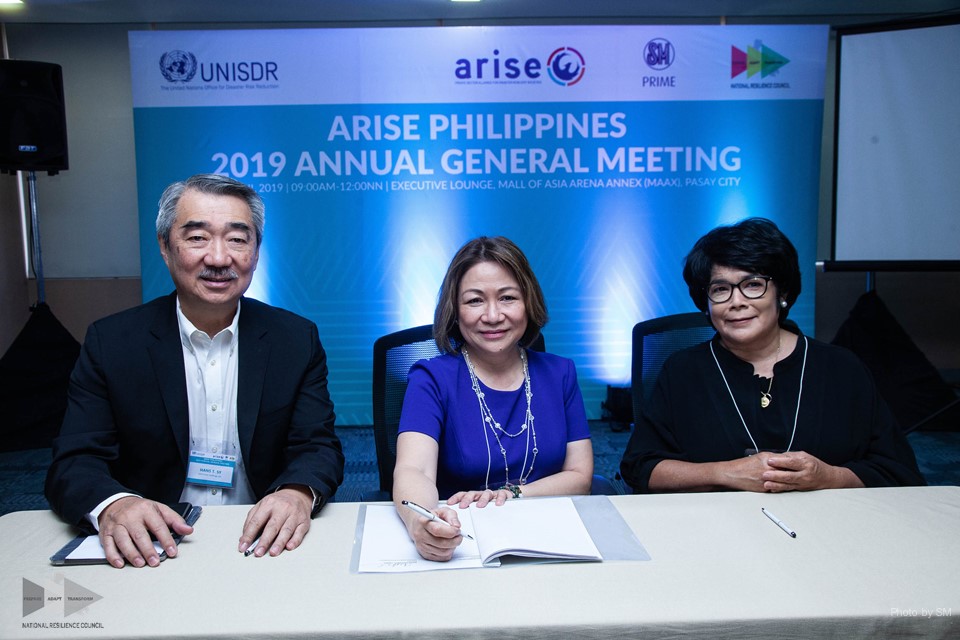 ARISE, an initiative under the UN Office for Disaster Risk Reduction (UNDRR), is a network of private sector organizations and entities that aim to align with the goals of the Sendai Framework for Disaster Risk Reduction, which are also consistent with that of the National Disaster Risk Reduction and Management Plan and the NRC resilience platform. ARISE also takes on facilitation of sharing of knowledge and experience in tangible DRR project implementation.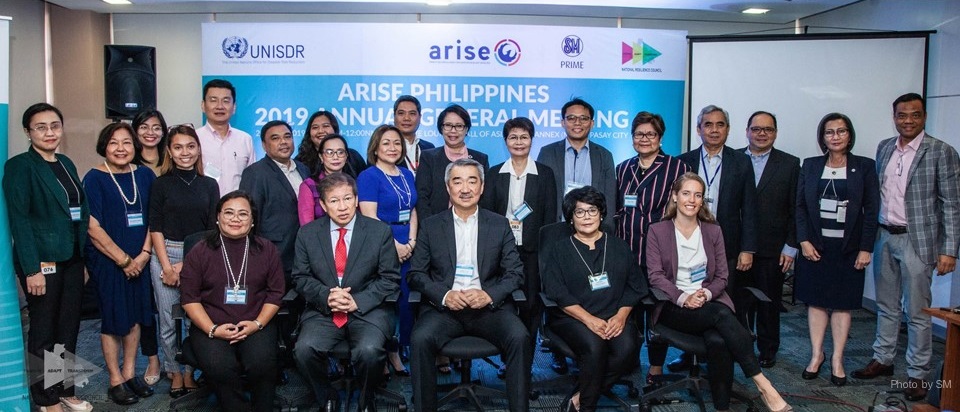 Photos by SM