Talking about disasters, risks and resilience have become urgent in recent years. Different sectors are now compelled to take on their respective roles in preparing for and preventing disasters that may lie ahead anywhere in the world. At the recent Asia Risk and Resilience Conference that took place in Singapore from 29-31 August, Zamboanga City Administrator and concurrent Local Economic Investment Promotions Officer, Ms. Marie Angelique Go, shared Zamboanga City's ongoing journey towards resilient local government systems in local economy.
This event organized by the Business Continuity Planning Asia Pte Ltd(BCP Asia), the International Association of Emergency Managers (IAEM) and Risk and Insurance Management Association of Singapore (RIMAS) served as a platform for discussions on disaster risk and corporate governance.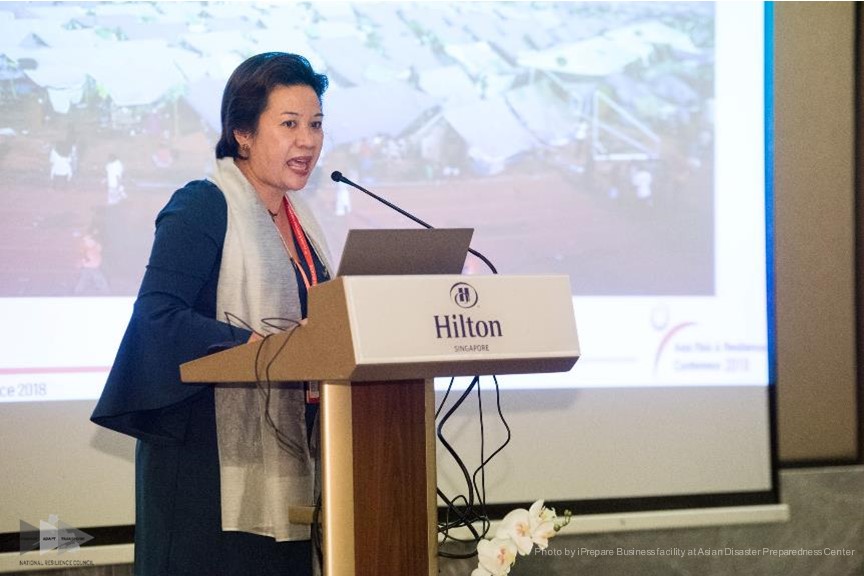 In a session on building resilience in the private sector, Go presented the experience of Zamboanga City as a case study for the local government. With its ongoing partnership with the National Resilience Council (NRC), a science and technology-based evidence-informed public-private partnership (PPP) promoting disaster resilience, the city is building the resilience of its local government systems through the NRC Resilience Scorecard. This move is critical after the city experienced a humanitarian crisis in 2013. It is likewise an important input and reference for the Zamboanga City Roadmap to Recovery and Reconstruction (Z3R).
Go then emphasized how it was imperative for the government to work on their resilience of its economic activities by linking small and medium enterprises (SMEs) to large businesses. She explained that Local Economy is oneof the critical pillars of the NRC Scorecard for resilient local government systems. The NRC Scorecard therefore serves as a guide for the City on how to assess and monitor its DRRM programs and overall disaster resilience in relation to its business sector.

Zamboanga City is one of eight LGUs participating in NRC's three-year Resilient LGU program. Other partners include Bataan Province, Cagayan de Oro City, Iloilo City, Iriga City, Naga City, Ormoc City and Valenzuela City. NRC is guiding these LGUs in accomplishing their comprehensive and localized Resilience Scorecard in order to be considered prepared, adapted and transformed in the context of disaster resilience.
Photos courtesy of iPrepare Business Facility at Asian Disaster Preparedness Center (ADPC).