The National Resilience Council (NRC) launched on June 17, 2019 the ADOPT-A-CITY Program through a signing of a Memorandum of Understanding among SM Prime Executive Committee Chairman and NRC Co-Chair for Private Sector Hans Sy, Cagayan de Oro City Mayor Oscar Moreno and NRC President Ma. Antonia Yulo Loyzaga. The tripartite with NRC, SM Prime and Cagayan de Oro City is the first partnership formed under the new program.
Guided by its belief in the importance of public-private partnerships in promoting a disaster and climate resilient Philippines, the NRC created the ADOPT-A-CITY Program as a city-specific partnership model responding to the Philippines' commitments under the Sendai Framework for Disaster Risk Reduction, the advancement of the Sustainable Development Goals, the agreements on Climate and the New Urban Agenda. NRC matches partners' resources (scientific knowledge, technology, funding, services, equipment and logistics) to the strategic needs of the local government units (LGUs) undergoing the Resilient LGU Program, NRC's 3-year program integrating Science & Technology and Leadership & Governance.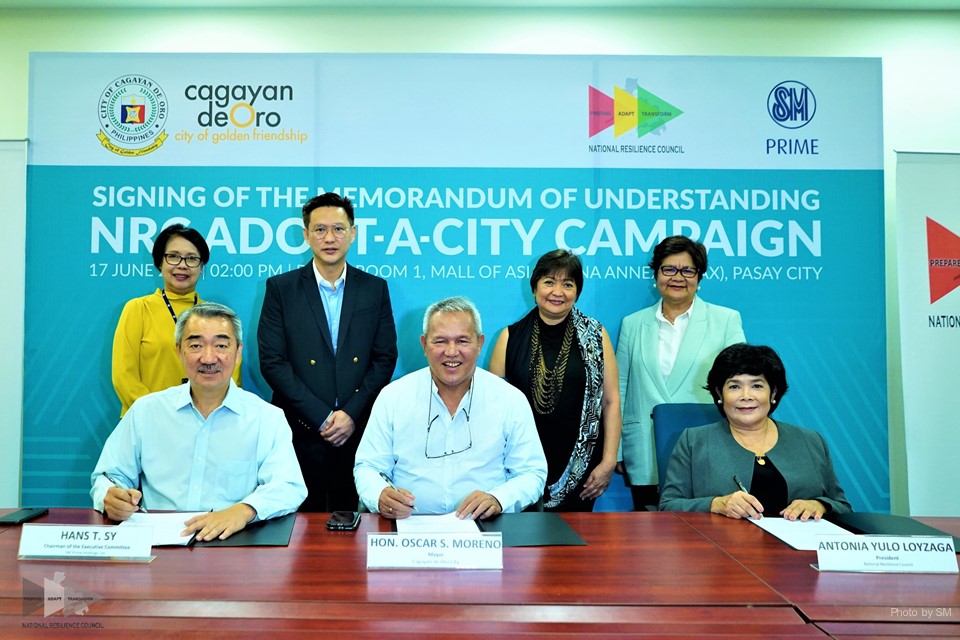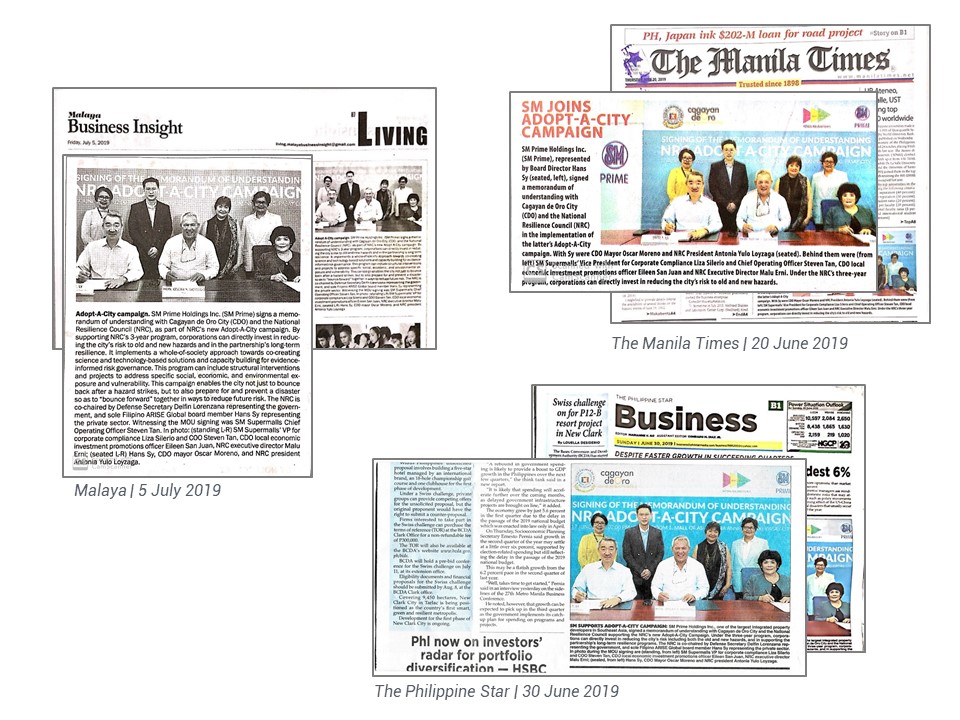 By pledging its support, a private sector corporation can directly invest in the city's disaster risk reduction and long-term resilience efforts. The program also uses a whole-of-society approach and strengthens private sector collaboration with local governments, academic partners and communities themselves in co-creating science and technology-based solutions and capacity building for evidence-informed risk governance. This involves structural interventions and projects to address specific social, economic and environmental exposure and vulnerability. It not only enables the LGU to bounce back after a hazard strikes, but it also prepares and prevents a disaster to "bounce forward" together in ways to reduce future risk.
For more information on the NRC's program, go to https://resiliencecouncil.ph/our-work/