By Amb. Roberto R. Romulo
In the book State, Society and National Security", its editor, Dr. Shashi Jayakumar begins this collection of essays with a conversation. He speaks with Singaporean officials Benny Lim and Peter Ho on, among others, the difference between the concepts of "surprise" and "shock". They conclude that while we cannot always avoid surprise, we can certainly minimize the possibility of being shocked, and the kind of paralysis that leads to failure.
This reading came to mind for various reasons over the holidays as we heard the news on the destruction and number of deaths caused by Typhoons Vinta and Urduja.
Although this conversation was made in the context of military and cyber security, it applies equally to disaster resilience and the experience of the Philippines as one of the countries who are most at risk to natural climate, weather and geological hazards. As we develop, disaster risk may be generated due to increases in population, urbanization, interdependencies among our technological systems. Disasters are also evolving in new ways, such as the natural-technological disaster that Estancia, Iloilo experienced during Yolanda when the National Power Corporation"s 35- megawatt power barge rammed into its coast. This resulted in both the loss of power and in a massive oil spill.
As we build our cities, weaknesses in local risk governance affect river flows, air quality and soil quality. When subjected to the frequency and intensity of extreme weather, earthquakes and volcanic eruptions these weaknesses threaten human development and increase the cost of infrastructure. The combination of these hazards, exposure and vulnerabilities constitute the recipe for disasters.
Finally, there is the interaction of hazards such as extreme weather events with exposed and vulnerable populations. National poverty incidence stands at over 21 per cent and Manila alone has approximately four million informal settlers. Unfortunately, the impact of natural disasters on this segment of our population continues to be poorly understood except by policy researchers, civil society organizations and academics. Moreover, the impact of natural hazards in conflict areas – such as the case of Vinta in Mindanao – presents a scenario that is certainly worth of a deeper disaster forensics study.
Given the complexity of disaster risk, the Carlos P. Romulo Foundation, Zuellig Family Foundation, Manila Observatory, SM Prime and the Philippine Disaster Resilience Foundation have formed a science and technology based public–private partnership known as the National Resilience Council (NRC). Our principal partners are local government units as they have the lead role in disaster risk reduction and in achieving development continuity. NRC has simultaneously engaged directly with the business community, the executive and legislative departments, academia and the civil society sector in order to identify and address the factors that contribute to disasters in each LGU.
Already committed to work with us on achieving a sustainable local economy, resilient human development systems, infrastructure and environment are: Bataan Province, and the cities of Valenzuela, Naga, Iriga, Iloilo, Cagayan de Oro and Zamboanga. We are building upon the success of the Zuellig Family Foundation"s Health Resiliency Program, the investor presence of large corporations such as SM and Shell, engagement of civil society groups, and private and public universities to ensure that LGUs bounce forward, instead of just bouncing back from a disaster.
Implementation began this year with a significant investment from Mr. Hans Sy of SM Prime. Through his support and the work of the NRC team led by DND Secretary Delfin Lorenzana, the NRC was recently called "global best practice" by UNISDR Special representative of the Secretary-General Robert Glasser.
NRC's vision is also supported by an action research grant from the International Development Research Centre of Canada. This will enable the Ateneo de Manila, the Manila Observatory and the NRC to conduct integrated risk assessments and establish multi-stakeholder partnerships for disaster resilience with local governments in Metro Manila, Naga and Iloilo.
We close by urging the private sector to support the NRC in the same way the executive branch has provided funding to insure a truly resilient Philippines.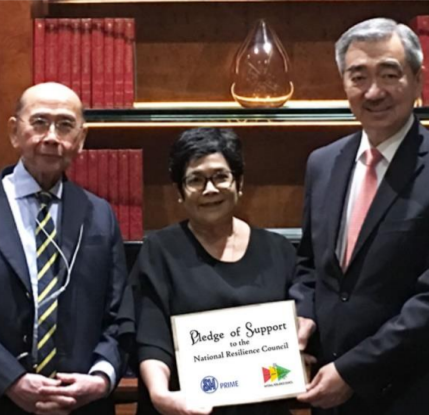 SOURCE:
Romulo, R. (2018, January 26). A resilient Phl, Filipino Worldview. Retrieved from https://www.pressreader.com/philippines/the-philippine-star/20180126/282050507492897