Multi-stakeholder resilience approach emphasized at the NRC Colloquium 2020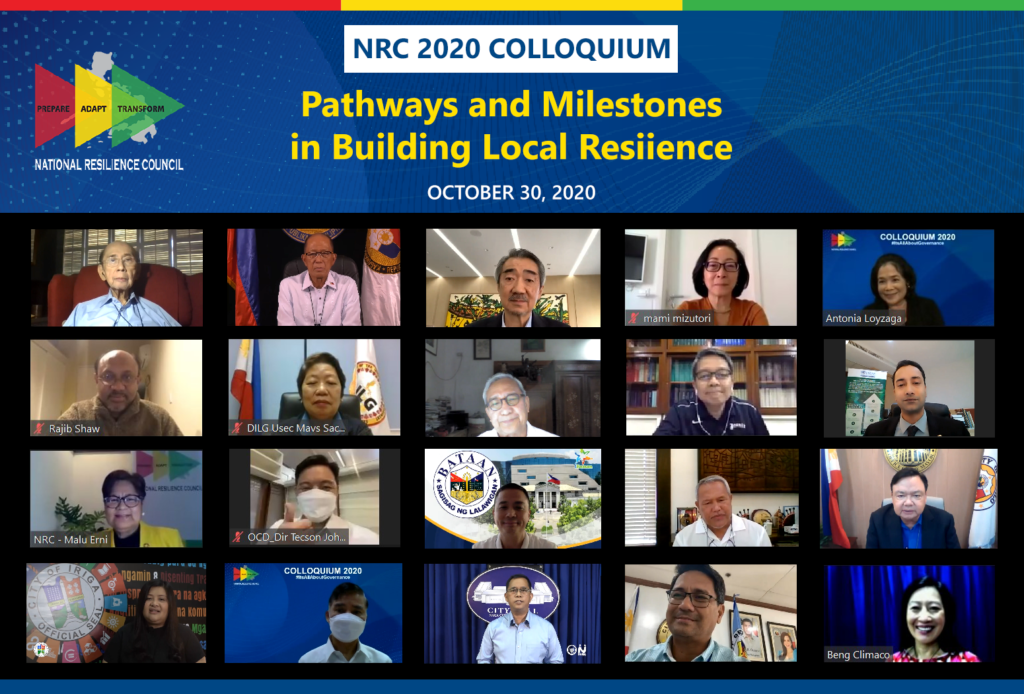 COVID-19 has added new complexity and uncertainty to public-private partnerships in disaster risk. To counter its cascading impacts, there is an urgent need for evidence-informed local leadership that is reinforced by multi-stakeholder collaboration.
In response to COVID-19's challenges and the year-round threats posed by other hazards, the National Resilience Council (NRC) held the virtual NRC Colloquium 2020 to highlight local governments' efforts to achieve evidence-informed risk governance on 30 October. Designed to highlight accomplishments, challenges, and opportunities, local chief executives and their resilience champions shared how they effectively bridged the gap between science, policy, and practice in building local resilience in the Philippines.
The "Pathways and Milestones in Building Local Resilience," virtual colloquium officially marked the transition of NRC's eight local government partners under its Resilient Local Government Units Program from the Year 1 PREPARE Phase to the Year 2 ADAPT Phase. Among the partners are the local government units of Cagayan De Oro City, Muntinlupa City, Zamboanga City, Iloilo City, Naga City, Province of Bataan, Ormoc City, and Iriga City.
The colloquium allowed local chief executives to share their personal narratives and resilience journeys. Their designated resilience champions put the spotlight on the LGU's technical reports and their achievements relative to the PREPARE Year Resilience Scorecard. Both revealed how leadership and governance training, stakeholder engagement in applying climate and disaster risk assessments, and the use of web-based spatial-temporal platforms informed their strategies, acts of leadership, and good practices. They outlined their roadmaps to adaptation and transformation based on their learnings and insights during this phase of the program.
NRC Convenor Ambassador Roberto Romulo, Chairman, Carlos P. Romulo Foundation; NRC Co-Chair for the Private Sector Mr. Hans Sy, Chairman of the Executive Committee, SM Prime; and, NRC Co-Chair for Government Sec. Delfin Lorenzana, Secretary, Department of National Defense graced the event and delivered welcome messages to the attendees.
Ms. Mami Mizutori, Special Representative for the United Nations Secretary-General and Head of the UN Office for Disaster Risk Reduction delivered the keynote and closing messages to the local government teams. Dr. Rajib Shaw, the Chairperson of UNDRR Science and Technology Advisory Group likewise shared guidance on how to advance evidence-based risk governance.
Usec. Mavel Sacendoncillo, Usec. Ricardo Jalad, Fr. Jose Villarin, and Prof. Ernesto Garilao delivered their reactions to the LGU's presentations and offered their guidance.
In his welcome message, NRC Convenor Ambassador Roberto Romulo noted that the COVID-19 pandemic has indeed complicated the task of dealing with disasters across all government levels. "If there is a lesson to be learned from the pandemic, it is that it has exposed in stark contrast the difference that good governance can make in successfully combatting the pandemic. So too can good and effective risk governance spell the difference in how countries successfully deal with the consequences of disasters," said Amb. Romulo.
Meanwhile, NRC Co-Chair for the Private Sector Mr. Hans Sy of SM Prime commended the organization's work in building a culture of prevention for resilience, noting that these efforts are one of a kind. "NRC has successfully shown us that building strategic private sector engagement and creating pathways for trans-disciplinary approaches are all possible. At the height of the pandemic, NRC had mounted impressive large-scale knowledge-sharing and training webinars featuring subject matter experts, both foreign and local. Those webinars reached hundreds of the populace, teaching, as well as expanding our minds," said Mr. Sy.
He further honored the participating LGUs as well as their Local Chief Executives, for recognizing their DRR needs and welcoming the enhancement of their leadership and governance through and science and technology.
Ms. Mami Mizutori encouraged NRC and its LGU partners in her keynote address to continue their public-private partnerships to create strong and resilient communities. In closing, she also cited the NRC's work as a global example of evidence-informed multi-stakeholder partnerships for disaster resilience.
"Disaster Risk governance is no longer a question of managing disasters or responding to the threats posed by a single hazard, we need a multi-hazard and multi-sectoral approach as advocated by the National Resilience Council and Making Cities Resilient 2030 (MCR2030). If done correctly, the success of good disaster risk governance can be measured in the numbers of lives saved and reduction in injury and loss of livelihood, as well as the survival; of critical infrastructure and reduced economical losses. I firmly believe that together, through combined efforts of the NRC and initiatives such as the MCR 2030, we can help expand the option of support in pathways to resilience available in the Philippines and the region so that no one is left behind, no cities left behind, and we can achieve a collective goal of resilient communities by 2030," Ms. Mizutori conveyed.
The NRC 2020 Colloquium was organized by the NRC with support from the Carlos P. Romulo Foundation for Peace and Development, SM Prime Holdings, Inc., ARISE Philippines, Zuellig Family Foundation, San Miguel Corporation, Alliance Global Group, Inc., PricewaterhouseCoopers Philippines – Isla Lipana & Co., Ateneo de Manila University, Coastal Cities at Risk in the Philippines: Investing in Climate and Disaster Resilience Project, and the Manila Observatory.
For more about the National Resilience Council, visit https://resiliencecouncil.ph/.
###