By Amb. Roberto R. Romulo
It is pure coincidence that our conference on "Megacities at Risk" takes place two days after the Zambales earthquake which affected Metro Manila. Personally, I was just as shocked as the rest of Manila. Many hotels, apartments and office buildings had evacuation procedures in place and they should be commended. On the other hand, many were unprepared and in a state of panic.
According to official sources, Manila experienced a 4.0 earthquake magnitude. Imagine if we are hit with a 7.2 magnitude as estimated (in 2013) by Phivolcs director and now DOST Undersecretary Rene Solidum.
The most important concern is the number of deaths as a resulted of an earthquake. In 2010, Chile was hit by an 8.8 earthquake that result in 700 deaths. In the same year, Haiti was hit by a 7.0 magnitude that resulted in 200,000 deaths. The difference in those death tolls comes from compliance and building construction and technology.
It is fortunate that we can learn from past earthquakes and start preparing for the "Big One." Our conference last Thursday is the beginning of such an endeavor. It is not a one-off event. We plan to have more implementing what will be the result of the conference. On behalf of the Carlos P. Romulo Foundation and the National Resilience Council, I would like to express our gratitude for the support of the Japanese and American ambassadors as well as the all-out support of Prof. Haruo Hayashi of the NIED from Japan and Dr. Wei Sen Li of Chinese Taipei. Without them, we would not have had the presence of the distinguished scientific experts who will share their experiences with us.
Further, I would like to express our thanks to the following private corporations who are generously supporting our endeavors in resilience: Araneta Group, Ayala Land and Ayala Corp., Meralco, Vista Land, AIG Philippines, Asian Development Bank and the Government of Canada, Green Event Technology, Metro Drug and Zuellig Pharma, Starr International Philippines and Robinsons Land Corp. A special thanks to Philippine Airlines, our official airline partner who ensured the participation of the nine scientists from Chinese Taipei, Japan, Indonesia and Singapore. We will continue to focus on the challenge of earthquakes. Once again, I appeal for the generous and conscientious private sector to support our ongoing programs. All of us now understand the imperatives of being prepared for the "Big One." A "bahala na" attitude is unacceptable.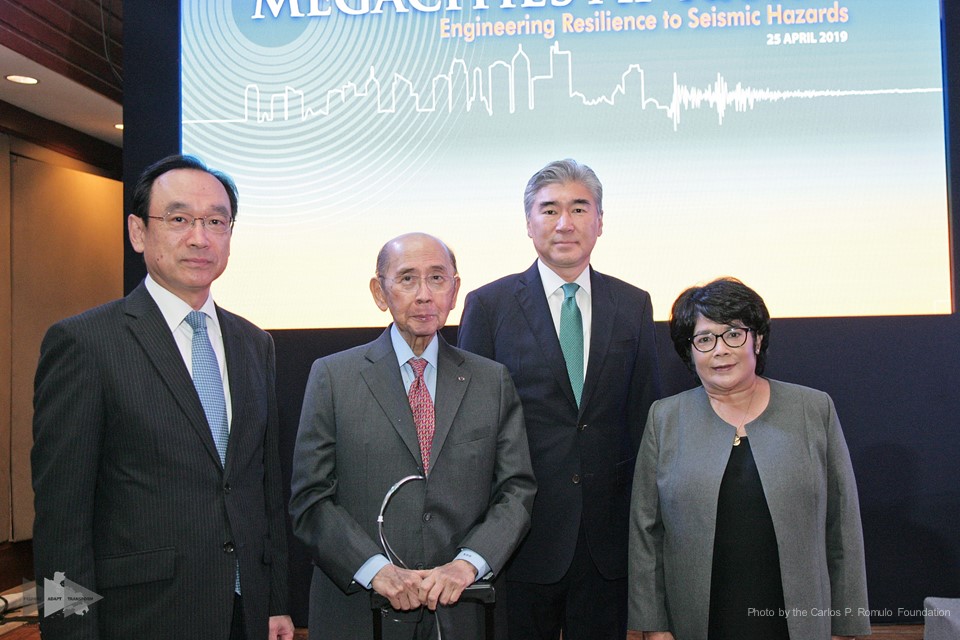 SOURCE:
Romulo, R. (2019, April 26). The shock of earthquakes, Filipino Worldview. Retrieved from https://www.philstar.com/business/2019/04/26/1912541/shock-earthquakes