"Pathways and Milestones in Building Local Resilience"
Concept Note
ABOUT THE NATIONAL RESILIENCE COUNCIL:
The National Resilience Council (NRC) is a science and technology-based public-private partnership that supports government, communities, the academe, and the private sector in advancing  the intersecting goals of the Sendai Framework for Disaster Risk Reduction, Sustainable Development Goals, the Paris Climate Agreement, the New Urban Agenda, and the United Nations Office for Disaster Risk Reduction (UNDRR)'s Making Cities Resilient Campaign.  Driven by the convergence of the visions of Ambassador Roberto R. Romulo and Mr. Hans T. Sy, of SM Prime Holdings, Inc., it is co-chaired by Secretary Delfin Lorenzana of the Department of National Defense and Mr. Sy. NRC has four vice-chairpersons representing government, the private sector, academia, and civil society. This structure facilitates the institutionalization of partnerships between various sectors. It likewise ensures the identification of shared values and the co-creation of strategic solutions to demand-driven resilience challenges. The NRC is principally supported by the Philippines' leading conglomerates. Thus, it is also the lead implementing partner of the UNDRR's Alliance for Disaster Resilient Societies (ARISE) Philippines. 
NRC aims to strengthen dynamic collaboration between the academe, civil society organizations, and the public and private sectors. It promotes leadership and governance based on knowledge development and the application of science and technology-based solutions to multiple challenges of disaster risk. It supports trans-disciplinary action research and applies training, coaching, and mentoring to enhance the internal capacities of local government units to build local resilience. Moreover, it fosters coalition-building and high-level collaboration between government and industry. 
NRC recognizes that the complex and dynamic nature of risk and the Philippines' unique patterns of development require the building of a culture of prevention. It addresses this by bridging critical gaps between science, policy, and practice through its Resilient Local Government Units Program, a two-track three-year program designed to build capacity in evidence-informed risk governance; the Resilience Scorecard, which is a system of metrics featuring over 90 indicators that are based on local and international resilience rating standards; and the Adopt-a-City Program, which highlights an innovative pathway for corporations to collaborate more strategically with local governments.  
CONTEXT: 
Crises and disasters are disruptions that cause challenges to governance. In these rapidly changing times, more adaptive and transformative leadership is required to reduce risk to new hazards and change the course and nature of exposure and vulnerability. Traditional local leadership must broaden its reach in order to address the challenges of disaster prevention, mitigation, response, and recovery in development planning, rather than just in preparedness for emergency response.
Promoting a climate and disaster resilient Philippines through effective and transformative leadership is at the core of NRC's institutional purpose. Thus, its work highlights the crucial role local leaders play in reducing existing risk and preventing new risk from being generated by moving science into both policy and action.  
As all risk is local, NRC and its partners build technical capacities of local government units and their stakeholders by co-creating new knowledge on risk, and by training them in evidence-informed leadership and governance for resilience. 
The COVID-19 pandemic has introduced new complexity and uncertainty to the pathways towards resilient development. It has highlighted the critical need for multi-stakeholder collaboration based on scientific knowledge and has imbued the role of local governments with even greater nuance and importance.  Long-standing issues on equity and governance are reflected in the differentiated impacts of the pandemic on communities. These now call for a fundamental shift toward science-based, risk-informed and resilience-driven planning and development.
THE COLLOQUIUM 2020:
The NRC, by virtue of its mandate and vision, engages local government units in making resilience their priority by fostering knowledge-based enabling environments for evidence informed risk governance. 
This colloquium officially closes the Year 1 PREPARE Phase of the Resilient Local Government Units Program and marks the transition of LGU partners to the Year 2 ADAPT Phase. It is an opportunity for local government leaders and their respective Resilience Councils to share their accomplishments and milestones relative to the Resilience Scorecard and roadmap as well as their learnings and insights through the lens of their leadership journeys as captured in their leaders' public narratives. They will highlight performance and risk assessments, capacity and competency development, and the formation of strategic partnerships to address unique and emerging challenges of building institutional capacity to contain and mitigate the public health crisis in the face of other natural hazards. 
The NRC Colloquium 2020 is likewise focused on the leadership journeys of each of NRC's partner local chief executives in building local government resilience. Their experiences and rationale for their acts of leadership; good practices; and strategies, future plans, challenges, and lessons learned will be shared during this event. These constitute their first year in a continuing journey of ownership, co-ownership, and co-creation and highlight learning and insights gained from the application of knowledge, skill, and abilities in the course of the program's implementation.
Finally, NRC will share its responses to the challenges of applying the Resilience Framework and implementing the program's Prepare, Adapt, and Transform model. Learnings in the PREPARE year have been evaluated against the additional risk posed by the emergence of a new and unpredictable biological hazard. As NRC transitions to the ADAPT year, it will highlight the application of a systems approach to risk reduction and the responsiveness of the program design. It will likewise re-emphasize the critical need and importance of building multi-stakeholder partnerships and the institutionalization of trans-disciplinary learning and knowledge-management to inform investments in resilient development.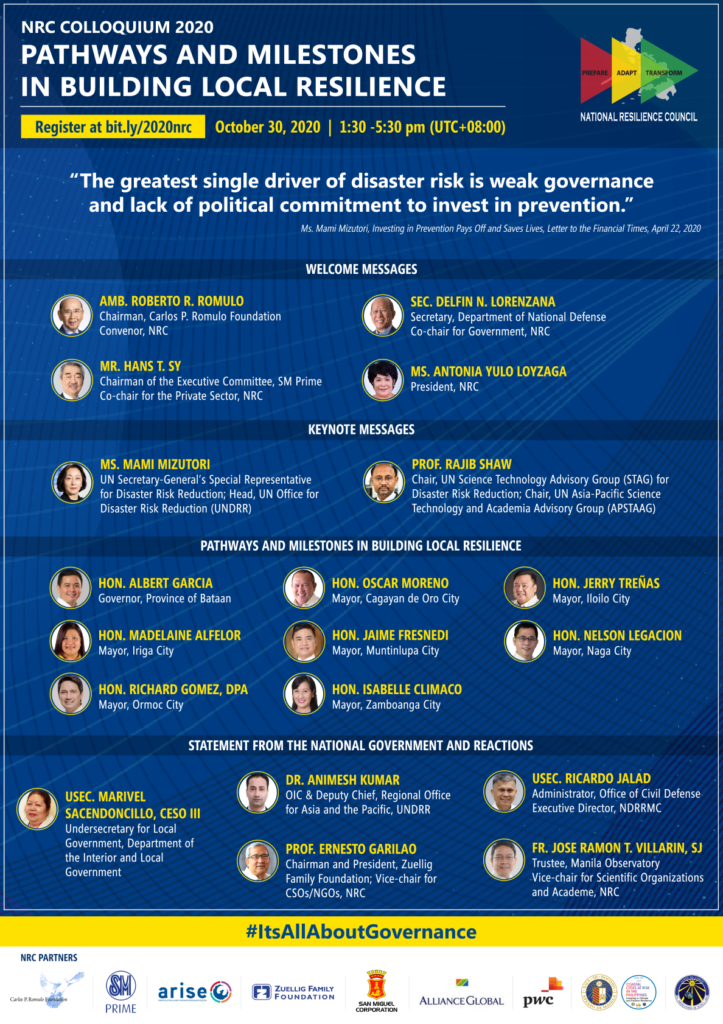 ---
Program
1:30-2:00 Welcome Messages
Ms. Antonia Yulo Loyzaga, President, National Resilience Council
Amb. Roberto R. Romulo, Chairman, Carlos P. Romulo Foundation for Peace and Development; Convenor, National Resilience Council
Sec. Delfin N. Lorenzana, Secretary, Department of National Defense; Co-chair for Government, National Resilience Council
Mr. Hans T. Sy, Co-chair, ARISE Philippines; Chairman of the Executive Committee, SM Prime Holdings, Inc.; Co-chair for the Private Sector, National Resilience Council
2:00-2:30 Keynote Messages
Ms. Mami Mizutori, UN Secretary General's Special Representative for Disaster Risk Reduction; Head, United Nations Office for Disaster Risk Reduction
Prof. Rajib Shaw, Chair, UN Science Technology Advisory Group (STAG) for Disaster Risk Reduction; Chair, UN Asia-Pacific Science Technology and Academia Advisory Group (APSTAAG)
2:30-4:35 Pathways and Milestones in Building Local Resilience
                Hon. Albert Garcia, Governor, Province of Bataan
                Hon. Oscar Moreno, Mayor, Cagayan de Oro City
                Hon. Jerry Treñas, Mayor, Iloilo City
                Hon. Madelaine Alfelor, Mayor, Iriga City
                Hon. Jaime Fresnedi, Mayor, Muntinlupa City
                Hon. Nelson Legacion, Mayor, Naga City
                Hon. Richard Gomez, DPA, Mayor, Ormoc City
                Hon. Isabelle Climaco, Mayor, Zamboanga City
4:35-4:50 Statement from the National Government
Usec. Marivel Sacendoncillo, CESO III, Undersecretary for Local Government, Department of the Interior and Local Government
4:50-5:10 Reactions
Dr. Animesh Kumar, OIC and Deputy Chief, Regional Office for Asia Pacific, UNDRR
Usec. Ricardo Jalad, Administrator, Office of Civil Defense; Executive Director of the National Disaster Risk Reduction and Management Council
Fr. Jose Ramon T. Villarin, Trustee, Manila Observatory; Vice-chair for Scientific Organizations and Academe, NRC
Prof. Ernesto Garilao, Chairperson and President, Zuellig Family Foundation; Vice-chair for CSOs/NGOs, NRC
5:10-5:30 Synthesis and Closing Remarks
Ms. Antonia Yulo Loyzaga
Ms. Mami Mizutori