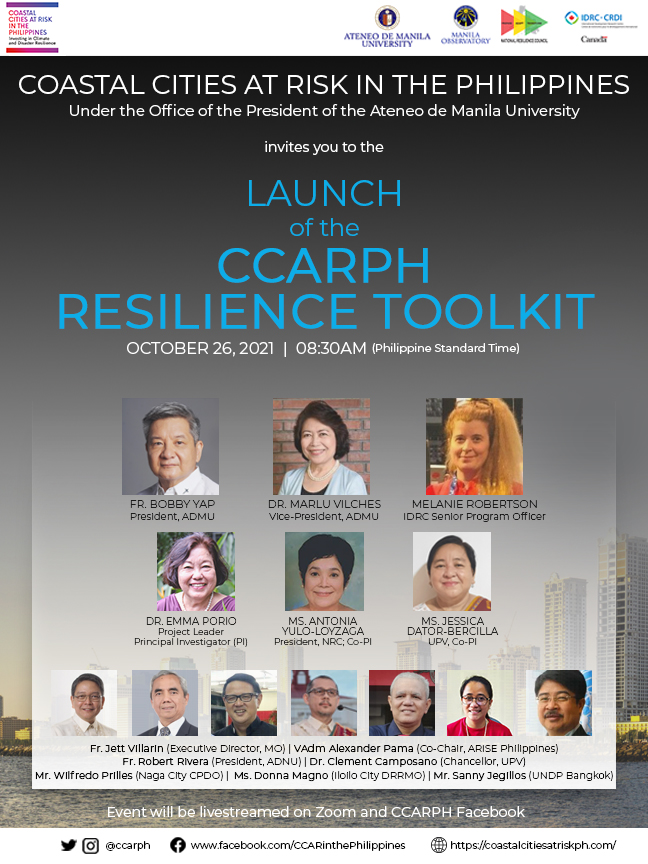 Last 28 October 2021, the Coastal Cities at Risk in the Philippines or CCARPH Resilience Toolkit was launched.
The Resilience Toolkit of the Coastal Cities at Risk in the Philippines is a knowledge database designed to help disaster management planners, risk and/or resilience practitioners, and local government units to refer and use various technologies to enhance our cities' climate and disaster resilience. Explore and learn more about the toolkit and project here: https://resiliencetoolkit.ph.
This project is an inter- and transdisciplinary actionable science research project of the Ateneo de Manila University and the Manila Observatory funded by the International Development Research Centre and done in partnership with the National Resilience Council. The project was launched on January 24, 2018.
Areas covered by the study are Metro Manila (in particular, Quezon City, Pasig City, Navotas City, and Valenzuela City), Iloilo, and Naga, which are all low-lying coastal, river-delta megacities in the Philippines; These cities are now increasingly vulnerable due to climate change, apart from being already stressed by rapid population growth and economic, social, health, and cultural challenges.
The project's main objective is to enhance the capacities of these coastal cities to better analyze and understand the complexity and dynamics of climate and disaster risks so that they may better prepare, adapt, and transform towards resilience.
CCARPH is a project by multiple stakeholders, professionals, and practitioners from the government, private sector, and communities, especially those populations who are exposed and vulnerable to climate and disaster risks. The project's direct contributions on climate and disaster resilience in the Philippines are:
1) Characterization of Hazards
2) Assessment of Exposure, Vulnerability, and Capacity of Multiple Stakeholders
3) Enhancement of Climate and Disaster Risk Assessment
4) Development of City Resilience Suite of Tools
5) Training of Resilience Action Leaders
6) Strengthening of Public-Private Partnerships in the Country and the Asia-Pacific region